FDIHC Continues to Break the Mold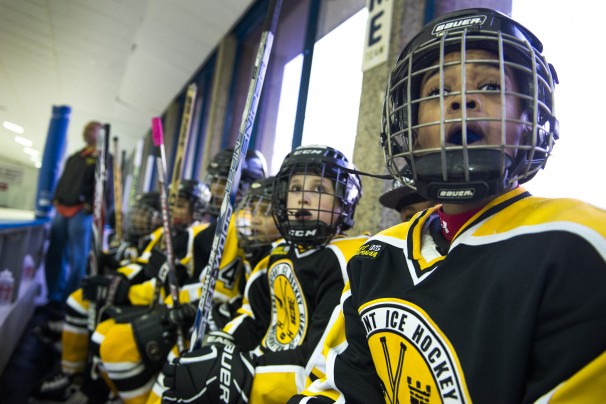 FDIHC
contiues to break the mold as rare minority youth hockey program.


It was never specifically intended to be a minority youth ice hockey program. But given the makeup of the District at the time, those were the kids who showed up to play.
Neal Henderson, a former hockey player who had recently moved to the area, was eager to teach his son the game, and pretty soon he had a group of kids coming to play at the Fort Dupont Ice Arena in Southeast Washington.
Today, nearly four decades later, the Fort Dupont Ice Hockey Club remains almost entirely African American, a rarity in a sport historically dominated by white players. It's the oldest of 36 clubs in a National Hockey League program aimed at promoting the sport in urban neighborhoods.
It's "our little-known secret down in Southeast D.C.," said alumnus Clyde Thomas, who coaches the Fort Dupont-based Maryland Student Hockey League D.C. Stars high school team. "When you talk about programs for minorities to play sports, ice hockey really isn't the first thing you think of.
"Guys I've played with [at Fort Dupont] have been asked, 'Isn't hockey a white sport?' when they tell someone they play hockey. We are trying to break down some of those barriers."
Henderson, who was born in Canada and is black, was careful to respect Washington's past when he established the program. He used the name of the rink in Southeast, which is named for the military base that protected the city during the Civil War. The colors of the club's team, the Fort Dupont Cannons — black, gold and white — were chosen by Henderson to represent the black soldiers, the brass buttons on their uniforms and the white officers. The background of the program is explained to all participants.
At around 6 p.m. every Monday and Wednesday evening for the past 36 years, the quiet lobby of the Fort Dupont Ice Arena fills up with a swarm of kids ages 8 to 18 decked out in uniforms and lugging worn bags of mostly donated ice hockey equipment.
The noise swells as teams shuffle ice times, and parents and their children work out carpool arrangements.
The faces change over the years — players come and go, they graduate from high school and move on to colleges and jobs in new cities — but with each generation comes another group of D.C.-area youth eager to join.
Henderson, 76, is the constant through it all. He follows the swarm of children out onto the ice each day, directing traffic in his lilting Canadian accent and commanding respect as the patriarch of a club that operates like a family.
Making it happen
Willie O'Ree, the first black player in the NHL and a close friend of Henderson, stops by to speak to the players about once a year. So does Kevin Weekes, a former NHL goalie and the first black television hockey analyst. Joel Ward, the only black player on the Washington Capitals, visited a recent practice to present a donation from the team as part of its "Teammates for Kids" program.
"Coach Neal always mentions that we have to take advantage of the ice time that we have," Cannons player Katherine Baker said.
"When he was playing he always took advantage of all of his time on the ice and he had to work twice as hard to do what he wanted to do, because there weren't many African Americans playing. He tells us we are lucky to have what we have."
Henderson was born in St. Croix and raised in Canada. He picked up his first hockey stick at 7. "You do what kids in the neighborhood do," Henderson said of his upbringing. "You play ice hockey."
He settled in Springdale, Md., in 1966, where he hosed down his driveway during the winter to teach his 10-year-old son and neighbors basic hockey skills. The club moved to Fort Dupont the next year and served nearly 45 kids in its second year.
"Once I came to the rink and started playing, the kids saw me and they wanted to play too," Henderson said. "They've been coming to me ever since through word of mouth."
They find the program by catching a glimpse of the team during summer camps at Fort Dupont, like Baker did, or on the recommendation of a friend.
Most players come from the District and a majority from nearby Southeast and Northeast, including a handful who live within walking distance of the rink off Minnesota Avenue. Some kids travel from Prince George's County or as far as Philadelphia.


The program usually fields two teams — a high school and an under-13 Peewee squad — to play teams such as the Columbus Ice Hockey Club in Ohio or the local Georgetown Titans. Team trips allow kids who have never been out of their neighborhoods to travel to places like Detroit, New York and Pennsylvania. Henderson has watched children captivated by the sight of a live cow from the bus window or passing over the 14th Street Bridge for the first time.

"When a kid comes off a trip like that, he's not the same kid that went on that trip," Henderson said.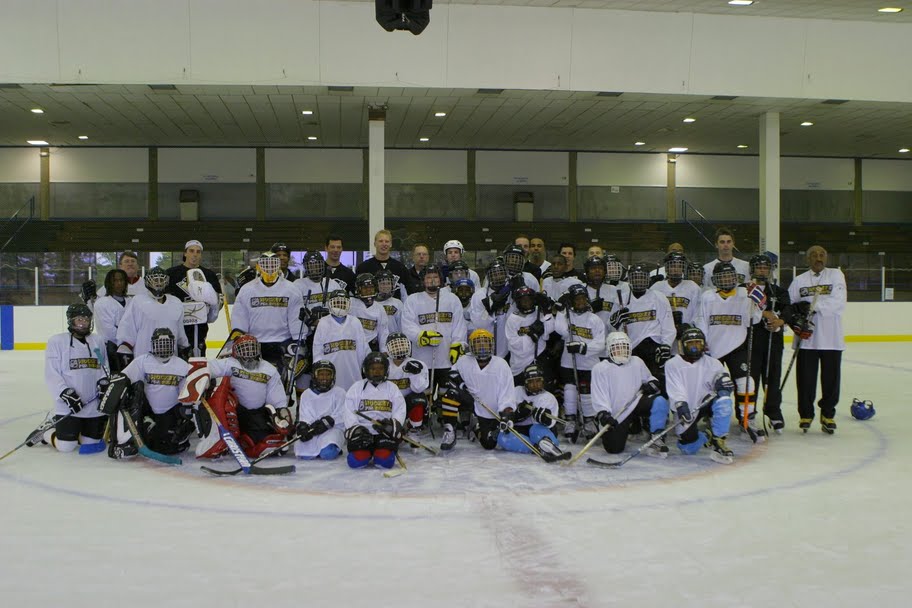 Participation comes at no cost thanks to an equipment bank, donations and a yearly fruit sale. Henderson eliminates the barriers that kids at varying socioeconomic levels face when trying to pick up one of the most expensive team sports.
"Our society has these assumptions — only the affluent can play ice hockey," Henderson said. "But if you do it as an organization, you can make it happen."
'It's super different'
Henderson sees hockey as a tool. His program boasts a 95 percent high school graduation rate, and many of his players have continued to play hockey in college. Alumni have gone on to positions as varied as D.C. police officer, computer analyst and Navy pilot.
Report cards are collected and reviewed, and Henderson and team manager Betty Dean keep daily attendance.
"This is one of the reasons why I keep coming," he said. "It's the development of these kids every day."
Fort Dupont is a family, Baker explained. Henderson leads practices, manages equipment and visits the rink almost every day of the week to greet players.
Dean is the matriarch. She started working for the Cannons in 1982 even though her children were too old to play and she wasn't much of a hockey fan. Her passion is the kids — she was the neighborhood babysitter in Brightwood at age 12 and spent five decades teaching in D.C. public schools. She handles the paperwork and planning.
"The other team parents are the uncles or aunts, and then you have the other players that are like brothers and sisters or cousins, coming together to work as a team," Baker, 16, said. "This is like family to me."
Baker wants to play hockey in college; Cornell, New York University and Rochester Institute of Technology are on her radar for now. The Friendship Collegiate sophomore is the only student at her school who plays ice hockey.
It's the same with Suitland sophomore Kenneth Bryant. He started playing because his uncle went through Henderson's program and now coaches. Classmates are surprised when they hear that Bryant, 15, plays hockey while attending a school like Suitland, where football is the more popular choice.
"It's super different," he said. "But it's pretty cool to be different."